Tin Cans - 3 L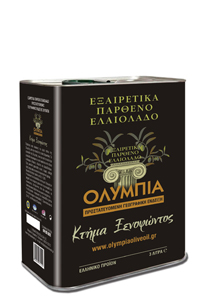 Produced by olive groves of the sacred place of Olympia, from the variety of Koroneiki Olive. The olive oil of Olympia, is one of the best olive oils worldwide and this is due to the perfect combination of soil, climate and olive trees. It has a unique fruity flavor, sparkle, clean smell, thick texture and light yellow-green color.
Low-acid product, from 0,1 - 0,8%
The (olive) oil production takes place at low temperatures and in minimum time since the olive fruit harvesting , maintaining in full its very natural, nutritious and healthy elements.
The processing - production of olive oil is carried out in the certified olive mill of X. Triantopoulos & CO.G.P., in Makrisia, Olympia.